Choosing your website domain name is no step to gloss over. You should be thinking of your domain long before you settle on your company name.
That perfect domain name often flows naturally from the name of your business or products. But sometimes that domain isn't available. Or it's so awesome, it costs an unreasonable amount of money. In this case, you'll need to come up with something different that matches your business and isn't too hard to remember.
To give you some ideas, you can either research the best keywords for your content or use an automatic domain generator. But before you make your final decision, you should know there are a few non-negotiable criteria.
Read on to discover the key information you need to land your ideal domain name.
Why is my domain name so important? 
Your website domain name is a bit like your mailing address, but online. This is where everyone can find you. Worldwide, almost 380 million domain names are already reserved. As of March 2021, there were more than 154.6 million registered .com domain names.
When choosing your domain name, you want a maximum of two words so it's easy to memorize. It also needs to give a clue as to what we can expect from your website content. When your domain name contains keywords on your business, this is great for boosting your natural SEO.
And be forewarned, if you change your URL after your website launch, you could lose traffic and visibility.
Determine your business's keywords 
To begin your brainstorming, consider your name, company name, or your business activity (carpentry, plumbing, window repair, etc.). If your company name isn't available as a domain, don't despair. An effective domain name often relies on strong keywords.
Keywords give prospects a sense of what your site's about, with the side effect of strengthened SEO.
If you need some help, try a domain name generator like Go Daddy,  Domain Wheel, or Instant Domain Name.
The principle is simple—enter one or two keywords and these sites will create suggestions for domain names, along with a few different options for extensions.
Simple but Essential Tips
Choosing your domain name is a subjective process. There's no exact science or strict rule book.
But you need to keep in mind a few essential steps if you want a domain that performs well. As we mentioned before, it needs to be short, available, easy to memorize, and pertinent to your website content.
You also need to select the right extension and ideally, a Top-Level Domain (TLD).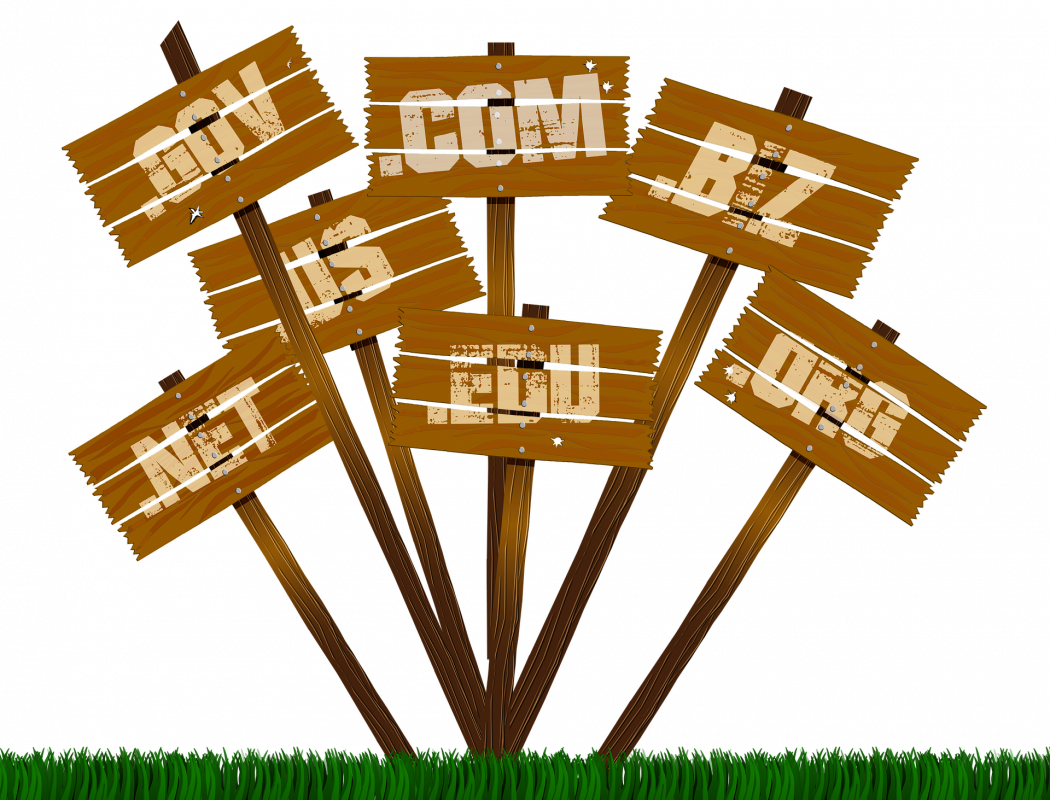 A TLD or Top-Level Domain is the final segment of a domain name—everything that comes after the dot. The most common example is the.com. Unfortunately, it's becoming increasingly difficult to find quality.com domain names that are still available. So you have to find alternatives.
Generic top-level domains (gTLDs) are a category of TLDs encompassing the most popular domains like
The country code top-level domains (ccTLDs) refer to specific countries:
Google will use these to geolocalize your website. So it's a good idea to take your time and choose your domain name wisely.
The last step will be to check its availability and reserve it.
Reserve your company domain name 
So, you've landed on your dream domain name with a great extension. Before you purchase your domain name, you need to make sure it's available. Even when they are not protected by intellectual property rights, domain names sometimes include a trade name. This means they benefit from legal protection under common law. In addition to availability, it's also a good idea to conduct a trademark search to avoid trademark-related lawsuits.
With these sites, you can take a look at what's available for your domain names and its various extensions.
And if you'd rather outsource your website and domain name to a professional who has done this before, that's what we're here for. Contact your digital experts at Linkeo!

All our websites are responsive design and optimized for SEO.
For more tips and tricks on digital marketing for artisans, click here!